This week, Madison covers your breakfast with a $50 Gift Card to Brigs Restaurants in Raleigh, Durham, Cary, and Wake Forest!
When you think breakfast, think Brigs.
And this month, think Brigs' Pilgrim Benedict – homemade cranberry stuffing topped with smoked turkey, poached eggs, and a savory holiday Hollandaise Sauce.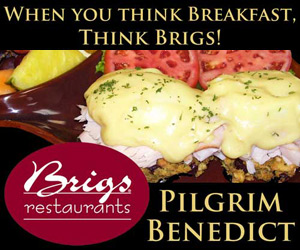 Brigs is also serving Pumpkin Pancakes hot off the griddle and topped with real whipped cream!
But, hurry! These specials will be available this month only, at Brigs – In Raleigh, Durham, Wake Forest and Cary!
AND, Brigs has a special Cranberry-Pecan Avocado Toast with gorgonzola and a drizzle of honey.
View Brigs full menu and locations at brigs.com